Brief
---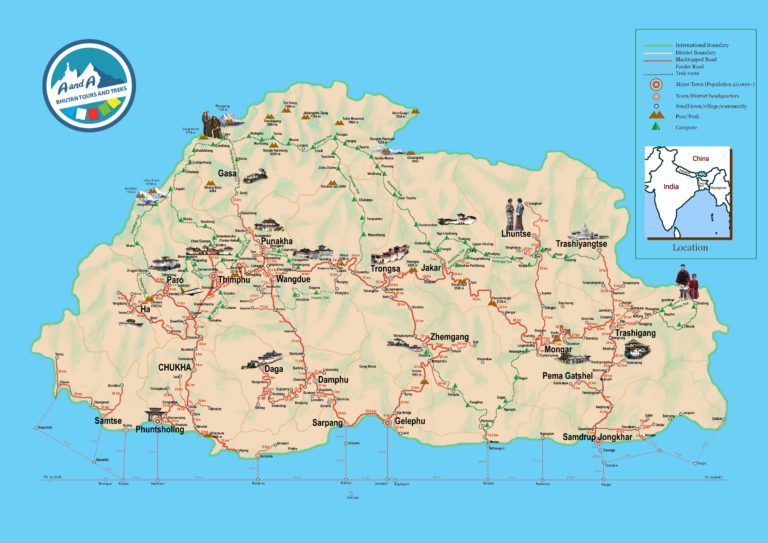 Bhutan (the Land of the Thunder Dragon)
The Kingdom of Bhutan is a gem in the eastern Himalayas. The small beautiful country with an area of 38,394 square kilometers lies between China and India. Bhutan is comparable to Switzerland both in its size and topography, being largely mountainous.
Bhutan is beautifully covered by untouched and clean natural vegetation. Because of the deep traditional reverence which the Bhutanese have for nature, the kingdom is one of the leading countries in environmental conservation.  As a Matter of Fact, About 72.5% of Bhutan's land area is still under forest cover and it is stated in its Constitution that, "a minimum of 60% of the Bhutan's total Land Shall be maintained underfor all time, forest cover".
Bhutan is one of the ten bio-diversity hot spots in the world and one of the 221 global endemic bird areas. Its ecosystem harbors some of the most exotic species of the eastern Himalayas with an estimated 770 species of birds and 50 species of rhododendrons, besides an astonishing variety of medicinal plants and orchids. Many parts of the country have been declared wildlife reserves, and are the natural habitats of rare species of both flora and fauna. Fauna and flora flourishes in great varieties as the terrain rises from southern foothills (150m above sea level) to unclimbed peaks over 7000m.
Opened for tourism in 1974, after the coronation of the Fourth King, His Majesty Jigme Singye Wangchuck, Bhutan is perhaps the world's most exclusive tourist destination. The country still retains all the charm of the old world, and travelers experience the full glory of this ancient land as embodied in the monastic fortresses, ancient temples, monasteries and chortens which dot the countryside, prayer flags fluttering above farmhouses and on the hillsides, lush forests, rushing glacial rivers, and – perhaps most important of all – the warm smiles and genuine friendliness of the people. Each moment is special as one discovers a country which its people have chosen to preserve in all its magical purity.
Today the world is seeing many exotic aspects of this Kingdom. Bhutan is becoming increasingly known for its pure practice of Mahayana Buddhism in the Tantric form, its untouchable culture, its pristine ecology and wildlife and the unparalleled scenic beauty of its majestic peaks and lush valleys and its governing policy of Gross National Happiness (GNH). Those fortunate enough to visit Bhutan describe it as a unique, deeply spiritual and mystical experience. This kingdom is an adventure like no other.
Facts and Figures
| | |
| --- | --- |
| Districts (Dzongkhags) | 20 |
| Land area | 38,394 square kilometres |
| Forest area | 72.5 % |
| Altitude | between 240metres and 7541metres above sea level |
| Inhabitants | 634,982 |
| Language | official language "Dzongkha", English widely spoken |
| Religion | Vajrayana stream of Mahayana Buddhism (Also known as Tantric Buddhism) |
| Currency | Ngultrum (equal to Indian Rupee) |
| Capital | Thimphu |
| Country Dialing Code | +975 |
| Local time | Six hours ahead of GMT and half an hour ahead of Indian Standard Time |